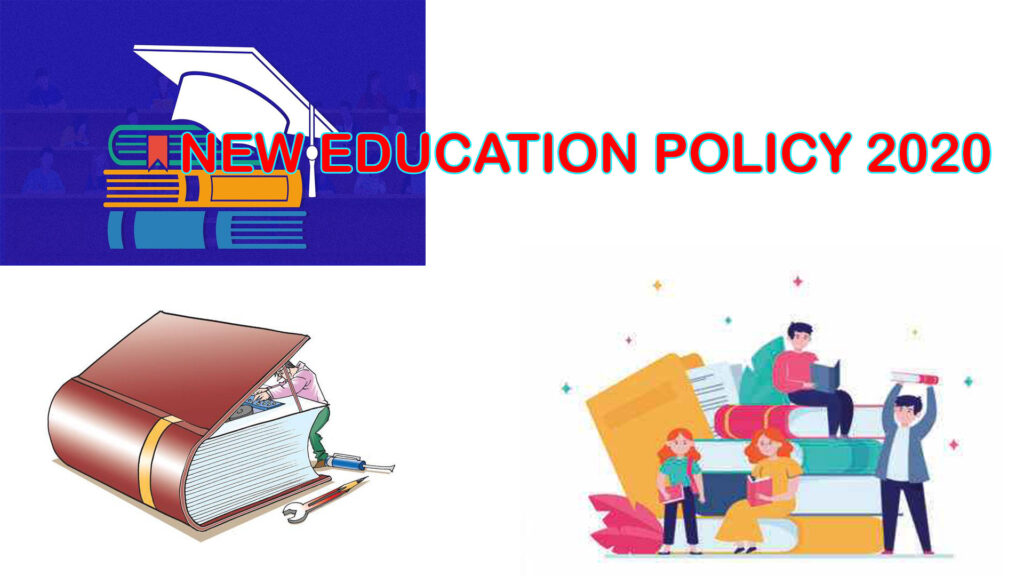 INTRODUCTION
New education policy introduce and implement a sea of changes across all level of education in India aims for universalization of education from pre-school to secondary level with 100% Gross Enrolment Ratio in school education by 2030.NEP is a comprehensive framework to guide the development of education in the country. The New Education Policy expands age group 6-14 years of mandatory schooling to 3-18 years of schooling. The NEP introduces three years of pre-schooling, age group of 3-6 years under the school curriculum.
New education policy which was approved by Union Cabinet of India on 29 July, 2020 is meant to transform the education system by 2040. Some proposals of this policy implemented immediately, starting with the change in the name of the Ministry of Human Resource Development into the Ministry of Education. The new policy replaces the previous National Policy on Education , 1986. The National Education Policy 2020 with its provisions of revamping the curriculum structure, assessment criteria and regulations, promise a brand–new approach to teaching and learning.
MAJOR FEATURES OF NEP, 2020
Strong learning foundation and robust academic growth :
School education
New pedagogical and curricular structure of school education (5+5+3+4): 3 years in Anganwadi/pre school and 12 years in school.
For children of, 3 to 6 years: Access to free, safe, high quality ECCE at Anganwadis/Pre school/ Balvatika.
Age 6 to 8, Grade 1-2: Foundation stage
Age 8-11, Grade 3-5: Preparatory stage, play, discovery, and activity based and interactive classroom learning.
Age 11-14, Grade 6-8: Middle Stage, experiential learning in the sciences, mathematics, arts, social science, and humanities.
Age 14-18, Grade 9-12: Secondary Stage, multidisciplinary study, greater critical thinking, flexibility and student choice of subjects.
Medium of instruction upto grade 5, and preferably till Grade 8 and beyond, will be home language/mother tongue/local language.
BOARD EXAMS and SCHOOL EXAMS:
School exams will be held only for 3 levels-
Class 3,5 and 8. Assessment will shift to a formative style which encourage higher-order thinking skills, critical thinking and conceptual clarity.
Board Exam to continue but these will be designed for holistic development. A new national assessment center PARAKH (Performance Assessment, Review and Analysis of Knowledge for Holistic Development) will be established. Board exams will have less stakes.
All students will be allowed to take Board Exams on up to two occasions during any given school year, one main examination and one for improvement, if they want.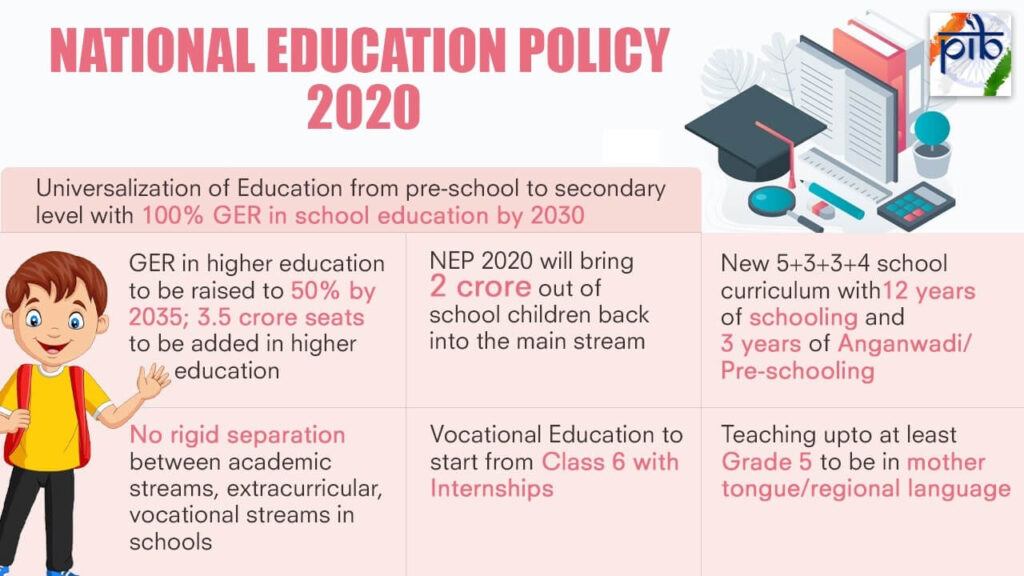 HIGHER EDUCATION and COLLEGE ENTRANCE EXAMS:
National Testing Agency will conduct a common college entrance exam twice a year. This will be implemented from the 2022 session.
Bachelor's degree will be of 4 years with exit options as follows:
EXIT after 1 year: Certificate
EXIT after 2 years: Diploma
Mid term drop out will be given the option to complete the degree after a break.
Bachelor's programmes will be multidisciplinary in nature and there will be no rigid separation between arts and science.
M.Phil degree will be discontinued.
By 2040, all higher education institution like IITs will become multidisciplinary. There will be greater inclusion of arts and humanities subjects for science students and vice – versa.
Holistic development for students of all grades:
NEP will inspire a shit from rote learning to indepth understanding. The curriculum content will be reduced to core essentials and create more space for critical thinking, discussions, and analysis. Teaching and learning will be more interactive, exploratory, collaborative and experiential.
Teacher preparation programmes will be rigorous and will take place in vibrant, multidisciplinary higher education institutions. The 4-year integrated stage-specific, subject-specific Bachelor of Education offered at multidisciplinary institutions would be the predominant way of becoming a teacher. Substandard and dysfunctional teacher education institutes will be shut down.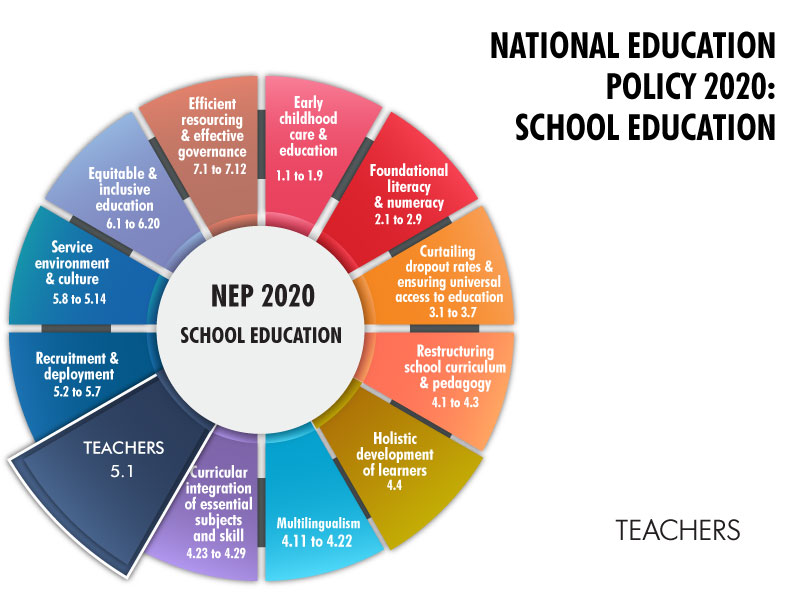 All professional education will be integral part of the higher education system. Standard technical universities,health science universities, legal agricultural universities, or institutions in these or other fields,will be discontinued.
This will be integral part of all education-this policy aims to provide access to vocational education to at least 50% of all learners by 2025.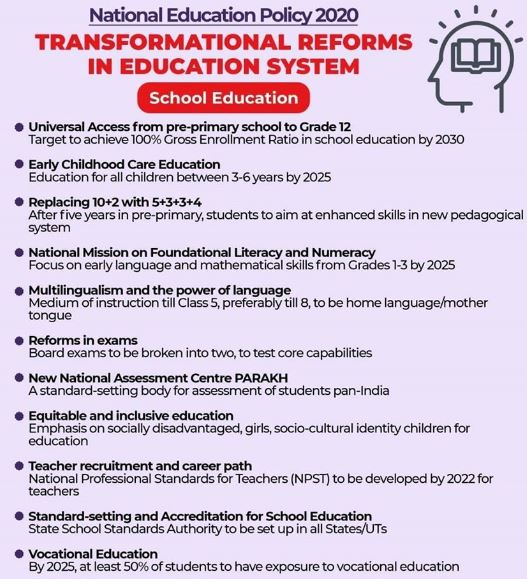 This policy aims at appropriately integrating technology into all levels of education to improve classroom processes, support teacher professional development, enhance educational access for disadvantage groups and streamline education planning, administration and management.
This policy aims to achieve 100% youth and adult literacy by 2030.
PROMOTION OF INDIAN LANGUAGE:
This policy will ensure the preservation, growth and vibrancy of all Indian languages.
ALLOWING FOREIGN UNIVERSITIES :
The document states universities from among the top 100 in the world will be able to set up campuses in India. This will lead to an infusion of international perspective and innovation, which will make the Indian education system more efficient and competitive.
UNION BUDGET 2021: NEW EDUCATION POLICY 2020
The union budget 2021-22 focuses on driving notable progress in the educational system in India through transformation in the learning framework. Finance Minister Nirmala Sitaraman made some major announcements for education sector in Budget 2021:
Setting up a central university in Leh
100 new Sainik schools and Higher Education Commission of India
Increasing collaboration with foreign institutions, strengthening over 15000 schools as per NEP and reforms in Board exams from2022. The Ministry of Education has been allocated a total of 93,224.31 Cr. this year.
SOME DRAWBACKS OF NEW EDUCATION POLICY
According to NEP2020, students willing to complete their graduation have to study for four years while one can easily complete his/her diploma degree in two years . This might encourage the students to leave the course midway.
As per the New Education Policy 2020, students of the private schools will be introduced with English much earlier age than government schools, which will increase the number of students uncomfortable in communicating in English.
NEP 2020 failed to check one of the main challenge that have been affected the Indian education system since long i.e a persistent mismatch between the knowledge and skills imparted and the jobs available.
CONCLUSION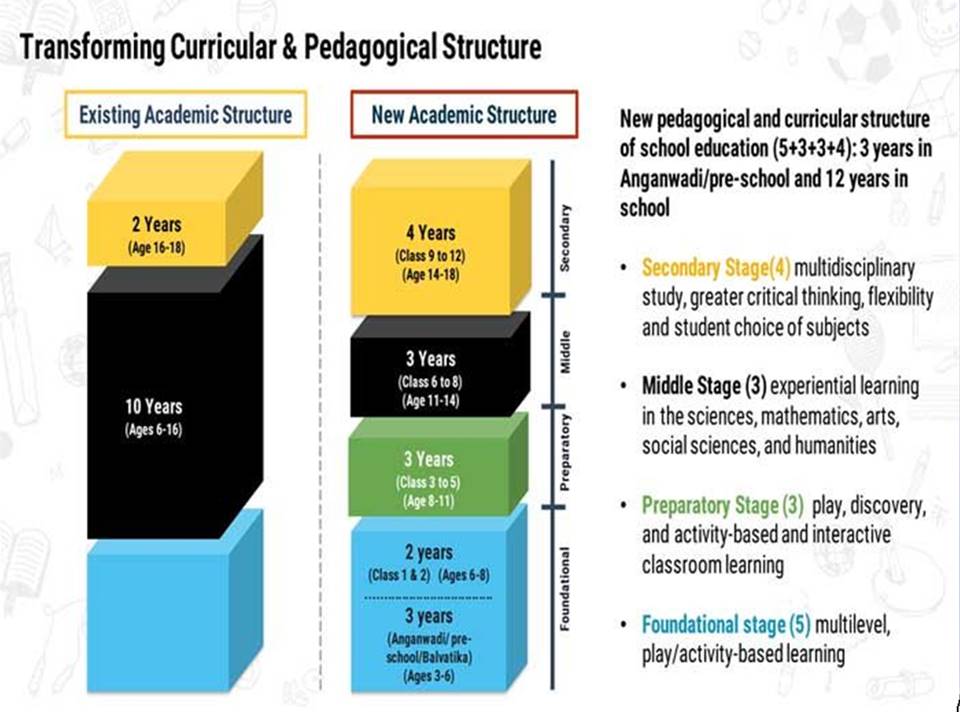 The Government of India aims to set up the NEP by the year 2040. Till the targeted year, the key point of the plan is to be implemented one by one. All the proposals of NEP will come into effect by the collaboration of the central and state government which will help our Indian academic system making at par with the International Standard of Academic.